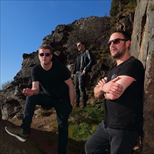 DODGY ACOUSTIC TOUR support ONE SIDED HORSE
The Empire, Coventry
Doors Open 7:00 PM. Starts 11:00 PM.
Performing: Dodgy
This event is for over 18s only - No refunds will be issued for under 18s.
DODGY ACOUSTIC LIVE PERFORMANCE - SUPPORT ONE SIDED HORSE.
Dodgy started life 27 years ago. In that time they released 6 albums, countless singles, toured the World, criss-crossed the UK, as well as managing to take a well-earned break for 10 years. Now, back in action, Dodgy continue to release critically acclaimed music and perform live to thousands of people every year.
In October & November 2017 Dodgy shake out, away from the festival season, with Dodgy Acoustic. Nigel Clark, Andy Miller and Stu Thoy will perform in a series of intimate acoustic shows playing stripped back versions of Dodgy classics, delving into the Dodgy vaults and unearthing forgotten gems and and the most requested songs from recent critically acclaimed albums Stand Upright In A Cool Place and the current album What Are We Fighting For. Delivering songs with stories of life on the road - stories from one of the UK's most active touring bands.
Dodgy frontman Nigel Clark says of playing these intimate shows - "Dodgy have always loved acoustic shows, the songs are written and rehearsed in acoustic format but they rock and we are loud – this is a chance to hear the songs in their Melodic, Harmonious Glory!"
Join the Dodgy Acoustic Tour at: COVENTRY EMPIRE 17th NOVEMBER 2018
Dodgy were together for seven years in the 90's, releasing three albums totaling over a million sales worldwide; 12 Top 40 singles, including Staying Out For The Summer, If You're Thinking Of Me and Good Enough - officially one of the most played tracks on British radio in the last 20 years.
During October & November, Mathew Priest (drummer) from Dodgy will be touring the UK with The Icicle Works, promoting the new album by Ian Mcnabb, 'Smile Star Strong' full details and dates are available on www.ianmcnabb.com
Dodgy
SUPPORT: ONE SIDED HORSE One Sided Horse started life in 2013 when Mark Whiteside the singer/drummer with Evil Blizzard decided to try his hand at the front singing rather than the back.
After buying a guitar and a chord book he wrote some a set of simple emotional songs that formed his first solo CD.
A chance meeting at a gig with Embrace bass player Steve Firth opened up his songs to more people and it was decided after meeting the rest of the band to record a full album of songs.
Since recording the album, the band has played a series of shows.
A single is planned for 2017 and the album to follow.
The chance to support Dodgy on various dates around the UK will be a good opportunity to let people hear what One Sided Horse is all about.
www.onesidedhorse.com
Facebook - @One Sided Horse